Welcome to the Tennessee TSRP Website
34,080 people died in traffic crashes in the United States in 2012. Traffic fatalities are the number one cause of death for children from the age of 4 up through young adults 34 years of age. In Tennessee in 2012, traffic crashes took the lives of 1014 people. 25% (255) involved alcohol. 18% (190) involved drugs. 35% involved either alcohol or drugs or both. 39% (399) were not wearing seat belts. 17% (178) were under the age of 14. 51% (520) were killed when a vehicle left its proper lane of travel. 45% of those killed were passengers. 31% of those killed were in the front right passenger seat. 7% were pedestrians.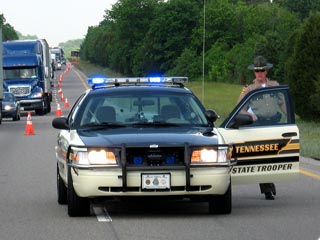 The Tennessee District Attorneys General Conference is committed to providing leadership in the battle to save lives on Tennessee roadways. Prosecutors deal with the devastation of crashes that kill, maim and injure on a regular basis. Drivers who kill face prosecution for vehicular homicide. Penalties for vehicular homicide by intoxication range from 8-12 years for people without prior felony convictions up to 60 years for career felons. Drivers who seriously injure face 2-12 years in prison depending on prior felony activity. They are prosecuted for vehicular or aggravated assault. Prosecutors also have an impact on stopping fatal crashes before they happen. Prosecutors do their best to convict those who are guilty of DUI, because it is the right thing to do and because it reduces the likelihood that the guilty offender will re-offend and kill themselves or someone else. Almost 80% of all people killed in alcohol related crashes are in the car of the impaired driver. Convictions save lives.
Traffic related prosecutions, particularly DUIs and DUI fatalities, are among the most complicated cases to prosecute. Assistant D.A's with huge caseloads spar with experienced, well paid, defense attorneys and the DUI industry. The industry includes a multitude of well paid defense "expert witnesses", who specialize in trying to find ways to exonerate paying or indigent clients. To convict the guilty prosecutors must have expertise in physics, chemistry and communication skills in addition to the law. They must know their particular cases as well as prepare for the rash of innovative defense claims that, if successful, would negate all evidence of impairment.
In 2002 the Tennessee District Attorneys General received a grant from the Governors Highway Safety Office to employ a Traffic Safety Resource Prosecutor (TSRP) to help our District Attorneys. My name is Tom Kimball. I have served as a TSRP to provide education, training, and technical assistance to prosecutors and law enforcement throughout the State, since leaving the role of Assistant District Attorney assigned to lead the vehicular crimes unit of the Hamilton County D.A.'s office in September, 2002. In 2007 the TSRP grant was expanded to add Jim Camp as a second T.S.R.P. Jim served as the elected District Attorney of Green Lake, Wisconsin for 17 years prior to relocating to take the TSRP position. Jim and I assist prosecutors and law enforcement in a number of ways. We coordinate regional and statewide trainings, give individual technical assistance, conduct legal research, and represent enforcement interests at State and regional and national traffic safety meetings. Whether the topic is DUI, suspended or revoked drivers, aggressive drivers, traffic stops, or any other traffic related subject, we are here to address the needs of the Tennessee prosecutors and law enforcement officers in the traffic safety arena. Please do not hesitate to contact us with your questions and concerns. We look forward through this website to expanding our availability and working more closely with you.